Headwall Photonics Co-Aligned VNIR-SWIR Sensor with LiDAR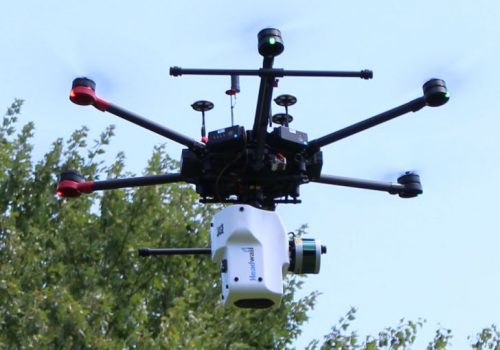 Introduction
The Headwall Co-Aligned VNIR-SWIR and LiDAR UAV mounted sensor is a class - leading hyperspectral pushbroom imager, capable of superb spectral and spatial resolution. This system is the first of its kind in Europe, and the first to be made openly available to researchers.

This system offers unparalleled data coverage and quality for a large range of applications, including mapping and monitoring of: vegetation, plant species, biodiversity, biomass, stress indicators, disease, agriculture, geology and many more. The attached 16 channel LiDAR allows orthorectification of flight lines over complex terrain and fusion with the hyperspectral datacube for three dimensional representation of spectral data and integration of LiDAR-based biomass estimates with different spectral products.

Unlike all other FSF drone systems, due to the expense, piloting and system requirements, this system is flown and operated by FSF and Airborn Geoscience Facility staff. This comes with a directly incurred cost, which must be written into your NERC grant application. FSF therefore takes insurance responsibility for the system while on campaign.

As with all FSF loans, full training on the system and how it may best be integrated into your research is provided.

Details of costings and the application process can be found below the system Specifications.
Features
The Headwall Co-Aligned system is mounted on a DJI M600 Pro. The system can achieve data acquisition times of ~15minutes. Area covered is dependent on the spatial resolution and spectral resolution required by the end user, and lighting conditions.
Example Conditions
Fine Resolution

Ground Sampling Resolution

30mm

Acre/Battery Set

13.5

Flight Time

15mins

Medium resolution

Ground Sampling Resolution

60mm

Acre/ Battery Set

54.1

Flight Time

15mins
FSF has significant battery capacity, and can accommodate multiple flights. Details of your flight requirements will take place during your loan assessment, and if successful, during your training with the FSF.
Specifications



HEADWALL PHOTONICS HYPERSPEC CO-ALIGNED VNIR-SWIR SENSOR

DUAL-SENSOR

SPECTRAL RANGE

VNIR (400-1000NM)

SWIR (900-2500nm)

SPECTROGRAPH DESIGN

High throughput aberration-corrected concentric imager

Spectral Pixels

270

267

Spatial Pixels

640

Detector Pixel Pitch

7.4 microns

15 microns

Dispersion per Pixel

2.2 nm/pixel

6nm/pixel

FWHM Slit Image (nm)

6

10

f/#

2.5

Slit & Grating

20 microns x 6 mm, holographic

10.4mm x 25 mirons, Diamond turned

Grating Efficiency

0.275 Normalised

0.74 Normalised

Residual Smile (microns)

<1.5

1.4

Residual Keystone (microns)

<1.5

1.8

Sensor Technology

CMOS

Stirling-cooled MCT

Max Frame Rate (Hz)

350

200

Bit Depth

12

16

Shutter

Global

Spatial Resolution

3cm at 50m AGL

Size

272mm x 208mm x 165mm

Weight

Instrument: 4.8kg

All up weight: 14.8kg

Power Consumption

26W

Storage

480GB, GigE Connection

Operating Window

<80%RH non-condensing, 0-40oC

LIDAR

16 channel Velodyne Puck LITE ™

Gimbal

Fixed Mount

GPS

Trimble Applanix APX-15

GPS Details

PPK, 2cm accuracy











Application Process
The Headwall system is currently only available to NERC funded grants through the NERC Je-S application system. https://nerc.ukri.org/funding/application/howtoapply/
In order to apply for a NERC grant for FSF support, please first contact us to chat about your requirements. We will then ask you to fill out a form outlining your proposal. This allows us to make a decision about the suitablilty of the system and the chosen research location to the Headwall system.
If FSF support is possible, we will then write a technical assessment with costs for FSF support. This will include nominal costs which will not contribute to your directly incurred costs. Costs for piloting and optional data processing will be part of your directly incurred costs
Costings
Nominal Costs

The below are a GUIDE of FSF nominal access costs. Please note - these DO NOT contribute to your directly incurred costs, and are for illustrative purposes only.

Flat fee (to include training, shipping, calibration, administration)

£3000

Weekly Rate

£1000

Directly Incurred Costs:

Pilotage

Pilots have two rates for 'flying days' and 'on-site' days. Please note that these costs are Directly Incurred and so must be provided for by your

Flying:

£550/day

On-Site:

£350/day
Data Processing
The Headwall produces a huge amount of data (multiple TB/campaign) and must be processed on a capable computer. FSF has teamed up with NEODAAS to produce ready to use Level 3 data. Costs for this are yet to be finalised, but if this service is required a figure can be established.