Headwall Photonics Co-Aligned VNIR-SWIR Sensor with LiDAR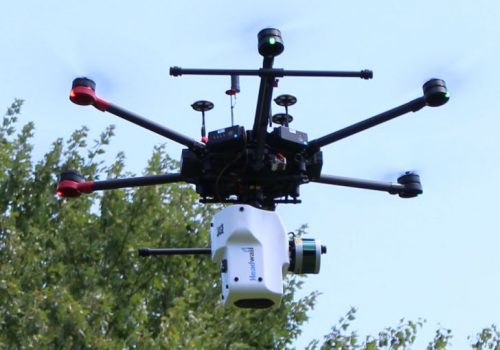 Introduction
The Headwall Co-Aligned VNIR-SWIR and LiDAR UAV mounted sensor is a class - leading hyperspectral pushbroom imager, capable of superb spectral and spatial resolution. This system is the first of its kind in Europe, and the first to be made openly available to researchers.

This system provides high spatial resolution (c. 5cm GSD), 3D projected, full-range hyperspectral imagery to support a wide range of applications, including mapping and monitoring of: vegetation, plant species, biodiversity, biomass, stress indicators, disease, agriculture, geology and many more. The attached 16 channel LiDAR allows orthorectification of flight lines over complex terrain and fusion with the hyperspectral datacube for three dimensional representation of spectral data and integration of LiDAR-based biomass estimates with different spectral products.

This sensor is available to all NERC grants, with FSF covering flight and operation of the sensor, as well as processing of the data to surface reflectance. Please contact us at least one month prior to your application deadline to discuss your project. We will then ask you to fill out a form outlining your proposal. This allows us to make a decision about the suitablilty of the system and the chosen research location to the Headwall system.

Direct access loans are also available, please contact us to discuss your requirements.


Features
The Headwall Co-Aligned system is mounted on a DJI M600 Pro. The system can achieve data acquisition times of ~15minutes. Area covered is dependent on the spatial resolution and spectral resolution required by the end user, and lighting conditions.
Example Conditions
Fine Resolution

Ground Sampling Resolution

30mm

Acre/Battery Set

8

Flight Time

15mins

Medium resolution

Ground Sampling Resolution

60mm

Acre/ Battery Set

17

Flight Time

15mins
FSF has significant battery capacity, and can accommodate multiple flights. Details of your flight requirements will take place during your loan assessment, and if successful, during your training with the FSF.
Specifications



HEADWALL PHOTONICS HYPERSPEC CO-ALIGNED VNIR-SWIR SENSOR

DUAL-SENSOR

SPECTRAL RANGE

VNIR (400-1000NM)

SWIR (900-2500nm)

SPECTROGRAPH DESIGN

High throughput aberration-corrected concentric imager

Spectral Pixels

270

267

Spatial Pixels

640

Detector Pixel Pitch

7.4 microns

15 microns

Dispersion per Pixel

2.2 nm/pixel

6nm/pixel

FWHM Slit Image (nm)

6

10

f/#

2.5

Slit & Grating

20 microns x 6 mm, holographic

10.4mm x 25 mirons, Diamond turned

Grating Efficiency

0.275 Normalised

0.74 Normalised

Residual Smile (microns)

<1.5

1.4

Residual Keystone (microns)

<1.5

1.8

Sensor Technology

CMOS

Stirling-cooled MCT

Max Frame Rate (Hz)

350

200

Bit Depth

12

16

Shutter

Global

Spatial Resolution

3cm at 50m AGL

Size

272mm x 208mm x 165mm

Weight

Instrument: 4.8kg

All up weight: 14.8kg

Power Consumption

26W

Storage

480GB, GigE Connection

Operating Window

<80%RH non-condensing, 0-40oC

LIDAR

16 channel Velodyne Puck LITE ™

Gimbal

Fixed Mount

GPS

Trimble Applanix APX-15

GPS Details

PPK, 2cm accuracy